Ukrainian farmers will have free access to satellite field monitoring
Ukrainian-American company EOS Data Analytics proposes to Ukrainian farmers to overcome the negative effects of the COVID-19 pandemic. Free access to the EOS Satellite Monitoring Platform for Crops gives farmers an opportunity to spend more time at home.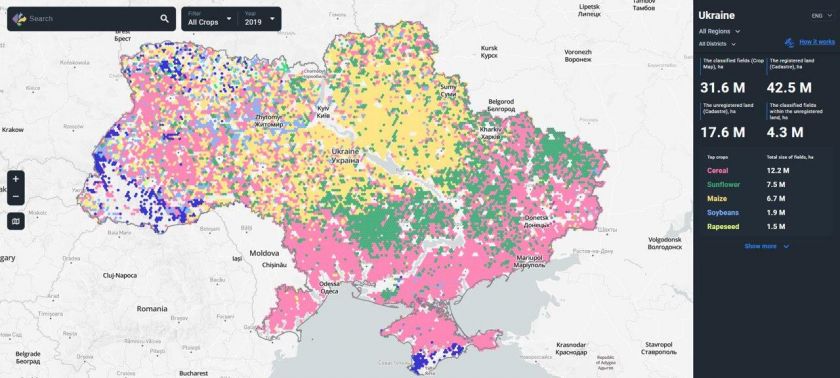 Satellite Field Monitoring Platform is a cloud service that uses satellite imagery to monitor crops and provide farmers with important, up-to-date information on their condition.
According to information provided on the company's website, farmers are offered commercial images with a resolution of ~ 0,5–1,5 megapixels as an autonomous data source for analytics. A high level of detail allows farmers to receive accurate and authentic information.
EOS Crop Monitoring enables farmers to make rational decisions based on the data they receive. The technological platform informs users about the features of vegetation, warns about sudden changes of weather, and automatically determines priority tasks. Thanks to satellite data, the condition of the fields may be monitored without leaving the home. Minimizing people's contacts is very important during the quarantine.
The company representatives said they made free access to the platform to support farmers during a pandemic. The offer is valid until April 30, 2020. To start using, you need to register on the platform site and receive a letter with instructions for access.
"Doctors are fighting for our today, while farmers are working for our tomorrow. We cannot imagine a world where agriculture has simply stopped working. So we want to help those who work even in the current situation," said Alexander Sakal, a business Development Director, EOS Crop Monitoring.
He added that many farmers from different countries were interested in this proposal after the launch.
***
About EOS Data Analytics
EOS Data Analytics is an international company that provides analytics cloud solutions and services based on satellite and geospatial data. The company's partners include leading satellite data providers who receive information from the Landsat, MODIS and Sentinel projects.
EOS Crop Monitoring uses machine algorithms and satellite image processing to offer online agricultural monitoring, and analytics solution. In Ukraine, the company also became a participant of the project "Supporting transparent land governance in Ukraine" supported by the World Bank and the EU. Under this project, Ukraine Crop Map was created. A lot of unregistered but cultivated plots were uncovered.
MIZEZ editorial team on EOS Data Analytics.